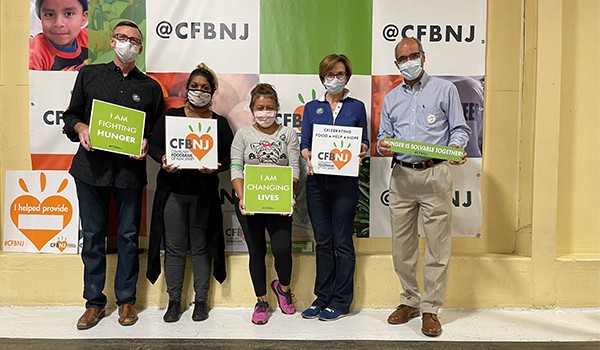 As volunteers and monthly donors, Wendell and Trish Scott are tremendous supporters of the fight against hunger. They first learned about CFBNJ through their church's volunteer program, which sends members out to do service projects at various organizations to get a better sense of the needs of the community.
"We were overwhelmed by the enormity of the facility because that really indicates the enormity of the need," they told us. "That was our first experience with the FoodBank a number of years ago."
They both have deep personal connections to CFBNJ's cause and to the importance of community service, overall. Wendell's mother struggled to access food in her home country of Germany during World War II. Later in life, the memory of that difficult time stayed with her; she stockpiled food at home, and this left a strong impression on Wendell.
After college, Trish moved to New York City, where she routinely encountered individuals who were struggling to secure the basics of food and shelter. The impact from those days motivates her to provide assistance to those in need today.
Wendell retired from his clinical practice as an orthopedic surgeon in 2015 and opened a medical legal consulting practice shortly thereafter. Trish has had a career as a financial professional, both in a corporate setting and with an investment advisory business she has managed along with two partners. She also works as the Financial Manager for Wendell's medical legal consulting business.
Why Donate Monthly to CFBNJ?
The couple began supporting CFBNJ as monthly donors at the start of the pandemic, when they saw images in the news of long lines of cars waiting to receive food assistance.
"It's heart wrenching to remember those images," they said. "The idea of so many living without enough food compels action by all who can assist."
As members of CFBNJ's Sustainers Circle for monthly donors, they help make it possible for the organization to plan for the year ahead — amplifying existing programs, launching new initiatives, and preparing for emergencies. Their generosity gives the FoodBank steady and predictable income to rely on.
"We recognize that the FoodBank serves a continuing need, so it is most meaningful for us to provide continuing support," they said. "A monthly donation really makes sense to us."
Wendell and Trish also volunteer at CFBNJ annually with their office staff, which they enjoy as meaningful work and a fun teambuilding activity.
When asked what they would like to say to current and prospective CFBNJ supporters, they told us: "We would encourage people to do as much as they can for the FoodBank to help our community, not just by giving money, but also by giving of their time and talent."